Clarification to the message below:
We would prefer if people used the new website. Thank you.
-------------------
Due to intermittent site outages, a new site is available at http://sites.google.com/site/friendsofthearroyo.
Please update your bookmarks.
Updates will be posted to the new site.
9/15/2010
This is to confirm that our annual Fall Community Arroyo Workday will be Saturday, Sept. 18. We will meet about 9 am in the El Paso Tennis Club parking lot off Virginia St. between Robinson and New York Ave. We will be picking up litter, doing trail work, and trimming vegetation along the roadside. Participants are asked to dress appropriately and bring sunscreen and insect repellent. If you have hand tools such as shovels, hoes, or rakes, please bring them, as we only have enough tools for the El Paso High students who will be participating.
Look forward to seeing you then,
Matt Carroll, Senior Leader
Sylvia Carroll, Junior Leader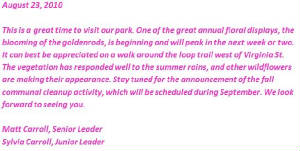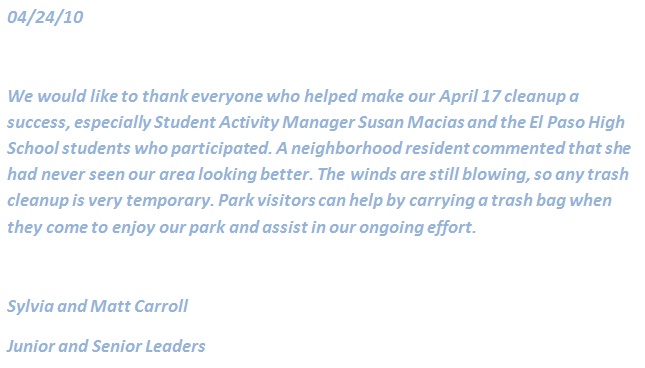 04/01/10

On Saturday, April 17, we are organizing a cleanup of Arroyo Park. Participating will be El Paso High students under the guidance of Friends of the Arroyo. We will be meeting between 8:30 and 9:00 AM at the parking lot of the Tennis Club. We welcome everyone to join in this effort. It is recommended that you wear sturdy shoes and clothing that will protect your skin. Sunscreen is recommended; insect repellent will probably not be necessary. If you have hand gardening tools such as hoes and pruning shears, please bring them, as well as trash bags. Depending on student participation, we cannot guarantee having tools or supplies for all who participate. We plan to work until noon.

Sylvia and Matt Carroll, Leaders

11/13/09

On November 10, I attended the public input meeting at Mesita School regarding the proposed traffic safety improvements on Robinson Avenue, which forms most of the northern boundary of Arroyo Park. I learned that an ad-hoc association of Robinson area residents had already contacted the Traffic Engineering Dept. regarding these improvements.

Friends of the Arroyo agrees that traffic safety improvements are necessary in that area; we do not oppose them in principle. We are concerned about the possible impact on Arroyo Park of proposed traffic circles on Robinson between Ochoa and Virginia St. There is a steep dropoff of 30 to 40 feet from the edge of the pavement on Robinson to the floor of the arroyo, in the most biodiverse and isolated natural area of the entire Billy Rogers Arroyo Park. Even a few feet of widening of the level area adjacent to the pavement at that location would necessitate the dumping of hundreds of tons of fill onto the slope of the arroyo, which would settle at approximately a 45 degree angle and create a far larger footprint in this isolated part of the park which has been the home of threatened species such as the burrowing owl and the extended stopover of a pair of blue-throated magpie jays who had never been sighted in the state of Texas before to my best knowledge.

We are asking all Friends of the Arroyo, nature lovers, and concerned citizens to follow closely the developments of these concepts and plans, and let your concerns be known to your elected representatives. Check this website for upcoming public input meetings or other opportunities to voice your concerns.

Thank you,

Matt Carroll, Senior Leader

Sylvia Carroll, Junior Leader

11/5/09



On Tuesday, Nov. 10, at 6 pm, a public input meeting will be held in the cafeteria of Mesita School. The topic will be possible solutions to traffic hazards on Robinson, which forms the northern boundary of most of Arroyo Park.



When this topic came up several years ago, one of the Traffic Engineering Dept. proposals was for a traffic circle at Robinson and Virginia. This would require extensive filling and would be very costly as well as a disaster to the wildest and most thickly vegetated parts of the park. I ask all Friends of the Arroyo, local residents, and nature lovers to attend if possible, and make your opinions and concerns known.



Thank you,
Matt Carroll, Senior Leader



9/25/09
We had a very good participation in the fall cleanup that we held on Saturday, Sept. 19. More than a dozen El Paso High students participated, as well as several longtime Friends of the Arroyo. This is a good time to visit our corner of Arroyo Park, because the goldenrods are in full bloom and many butterflies and other insects are preparing for winter by collecting nectar and pollen.
Latest News (5/20/09)




At the Franklin Mountains Wilderness Coalition meeting of May 20, I made an application to add Friends of the Arroyo as a member association of the FMWC. It is expected to be approved in the FMWC July meeting. Thus we will join with 16 organizations including neighborhood associations and cultural, environmental, educational and recreational organizations. Membership in the Coalition is open to individuals and organizations who share the goal of preserving the scenic beauty and wilderness character of the Franklin Mountains. As our Arroyo is the most important drainage of the South Franklin Mountains, its well-being depends on maintaining the integrity of this mountain range.



Matt Carroll



Senior Leader and Park Partner



Keep an eye out for an event in the near future. We are planning to organize a cleanup on a Saturday in mid-September with the help of El Paso High students.




Recent Events:

Workday Saturday, April 18





We will be doing trail and trimming work from about 8:30 to noon. Volunteers welcome. There may be participation by El Paso High and Loretto students, but this has not yet been confirmed. Bring gloves, sunscreen, insect repellent, and hand tools, such as hedge trimmers, hoes, and machetes if you have them. Some extra tools will be available. We will meet on the Virginia St. side of the Tennis Club parking lot. Please be dressed appropriately, with long sleeves and pants, closed shoes, head covering, and work gloves.






Upcoming Events:


Thank you to everyone who participated in the cleanup on April 18. Participants included El Paso High students and other individuals.